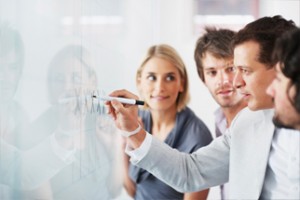 BottomLine Solutions can fully replace the functions of your business office; with advanced systems connectivity and an expertly trained business office staff. BottomLine Solutions offers a full spectrum of services required to optimize your billing and Accounts Receivable collections efforts. 
Outsourcing offers the following benefits: Increased revenue – Outsourcing your billing doesn't mean giving up control. In fact, it's quite the opposite. You will maintain complete control over your billing and your money. All you lose is the frustration and the overhead cost of training or retaining staff.
Dedicated and experienced staff – You gain access to a highly trained staff whose sole focus is to follow-up on your claims. These field experts will work exclusively to improve the financial performance of your facility. We will call payer sources on a continuous basis, ensuring you receive the revenue you are due. Claims will be worked on until they have been paid, or a valid response for non-payment has been given.
What are the advantages of outsourcing your medical billing? You will be able to see them every month. You will receive report packages that detail the prior month's billing and collections. Think of it as a report card that lets you measure the value of outsourcing and shows you how much more money you are getting back. These reports will give you a clear view of your billing and collections. If you have any questions, we are always available to meet with you and selected staff to review the reports.
Every day it seems like something new is changing in the Skilled Nursing Facility (SNF) world. Keeping current with the rapidly shifting and expanding knowledge base is time consuming and frustrating. Figuring out how to apply new rules consistently is a daunting task and just when you feel like you understand things, the regulations or billing guidelines change again. These days medical billing requires constant attention to regulations, publications, guidelines, laws and more. Who has the time? It is our job to maintain the most up to date information. We keep up with the latest industry regulations, procedures and requirements so you do not have to – providing complete compliance to ensure cleaner claims and quicker cash turnaround.
Outsourcing saves you money by reducing the staff needed in your business office. You will no longer have to worry about hiring or staff turnover. Costly training and supervision is now a thing of the past. The reduced payroll, benefit costs and training expenses more than cover any costs related to outsourcing your billing.
Your facility will be freer to focus time on resident care; who would not want to invest in that? No wonder industry experts agree that not only is it a smart idea, but it also makes good business sense, to concentrate on your core competencies like quality resident care and outsource business functions; like billing, A/R management and collections. If you let BottomLine Solutions relieve you of your billing processing, you will reduce your administrative headaches, unburden your staff, and free up time for what matters most – your residents.
Address: 1749 NE 10th Terrace, # 4
Cape Coral, FL 33909
Our Toll Free Number: 855-226-9328
Email: Diane@BottomLineSolutions.org